The 1982 World Cup in Spain was the first that enthralled me as a tournament (1974 and 1978 were both a bit grim), largely because of the fascinating contrast in styles, nowhere better exemplified than in the semi-final between France and Germany, though the subsequent final between the Germans and a victorious Italy was also compelling (Marco's Tardelli's manic goal celebration etc). Today's France-Germany clash will do well to stand comparison with a match that finished 3-3 after extra time, featured Schumacher's infamous "bumming" of Battiston, and was the first World Cup match to be settled by a penalty shootout.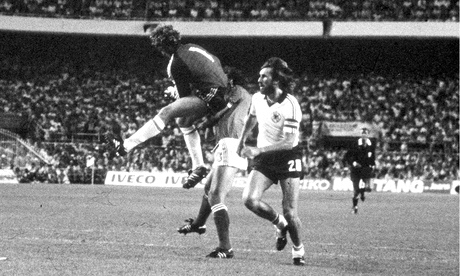 France were pretty ordinary at the start of the tournament, beginning with a defeat to England and Bryan Robson's first minute goal. The unusual format, with two group stages before the semis, allowed them time to get their increasingly fluid game together, based around the midfield of Platini, Giresse and Tigana. Though they lost the semi-final, they would go on to deservedly win the European Championship in 1984. Germany had also been unconvincing, losing to Algeria in the first group stage and drawing with England in the second, but would go on to to reach a further two finals in succession, winning in 1990. Though the flowering of the game after Italia 90 owed much to economic and social change, the 1982 tournament in Spain, and that semi-final in particular, was a key step in the aesthetic rehabilitation of football that occurred during the 80s.
If form is any guide, this could be a corker (so assume I've put the mockers on it). For the Arsenal fan, Germany must be favourites (3 squad players versus 2 - Sagna having left the building), but the romantic in me will be just as happy if the French win it after an epic struggle. Today's other quarter-final, Brazil versus Colombia, looks difficult to call, largely because it will probably depend on how well Neymar and Rodriguez play on the night. This highlights a difference between the American and European teams, namely that the former are heavily-dependant on a single player (Argentina without Messi would be distinctly average), while the latter each have a handful of game-changers, some on the bench. For this reason, I suspect we may see a European team win a tournament in the Americas for the first time.
Though only one of France and Germany can go through, both squads, and those of Belgium and Holland, looks to have greater depth and flexibility than Brazil, Colombia, Argentina and Costa Rica. My hunch is that Germany have the edge, mainly because they have more "square pegs" who can spring a surprise, such as Muller, Ozil and Gotze, which is interesting in itself given the national stereotype of precision engineered components. Germany look endearingly shambolic, from their makeshift full-backs, through Mertesacker's lack of a third-gear, to Thomas Muller's socks. Up against Jurgen Klinsmann's Californicated chinos and teeth in the last 16 round, Joachim's Low's impression of an anxious metrosexual restrauteur was a hoot.
In contrast, the French look like they mean business, closer to Les Paras than the Musketeers of 1982. Didier Deschamps is the embodiment of "obdurate", but the team's success owes much to the rapid forward movement from midfield of Matuidi, Valbuena and Pogba. They have a determination that echoes Platini & co. I suspect Germany will sit deep this time, rather than risk a high line and reliance on Neuer's eccentric sweeping, though this will allow France to bring on Giroud later to exploit crosses and produce layoffs. Germany will need some hard running in the middle of the park, so how they use Khedira and Schweinsteiger could prove crucial to the result. It's a fascinating prospect.